LBS: Quality and Service
LBS News
More articles »
---
LBS: Quality and Service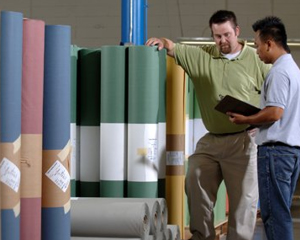 Adaptation and transformation have become the new hallmarks of the book manufacturing industry. As printing demands shift to shorter runs and a greater diversity of products, manufacturers have had to reinvent themselves as nimble and flexible companies that produce and deliver books faster than ever. Supporting many in the industry through that transformation is LBS, a materials supplier for book manufacturers, on-demand and photobook manufacturers, library binders and manufacturers of luxury packaging.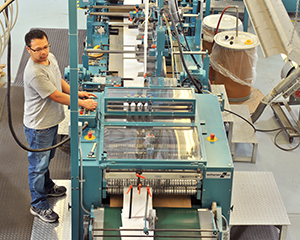 LBS is using the knowledge it's gained from observing the changes in the industry and listening carefully to clients to expand its product offering, develop specialized materials for custom print projects, and consult manufacturers on ways they can improve the quality of their products.
"We are working very diligently with existing book manufacturers who are changing their business," says LBS President Rob Mauritz. "As they change their business, we need to be nimble enough to change with them."
And change LBS has. The 90-year-old company, which began as a book bindery and then transitioned to a materials supplier for library binders, has significantly expanded its product offering to serve a wide variety of clientele. The company has grown to approximately 80 employees and now serves manufacturers in the book and packaging industries. In 2015 LBS made its materials easier to access with the launch of a new website which features a robust materials search engine. Using the new search tool, manufacturers can find the materials they need, learn which applications these materials are best suited for, and order samples.
Guiding these shifts in inventory and technology is a set of core values that have remained constant since the company's founding in 1926: A dedication to high-quality materials and outstanding service.
"There are several things that set LBS apart," says Edwards Brothers Malloy Vice President of Operations Bill Upton, an LBS client for over 20 years. "First, they offer the highest quality materials. For those titles where publishers need top-notch quality, LBS is the supplier we go to. Second, LBS is very creative in engineering products to meet specific needs. Finally, the integrity and customer-focus of their people is unsurpassed."
And like the book manufacturing industry as a whole, LBS's transformation is far from over. The materials supplier thrives on finding new ways to serve its clients and help them navigate the massive changes that are ongoing in the industry.
To learn how LBS's extensive product offering and material expertise can benefit your books, textbooks, or photobooks, visit lbsbind.com, call 800-247-5323 or email LBS at info@lbsbind.com.
---
---
Leave Your Comments
We welcome your comments. Please leave your ideas and opinions below.