Endsheets
Folded Single Folio
Our Folded Single Folio is a folded sheet that is tipped onto the bound book block.
Features/Specs
Materials meet NISO/LBI specifications
FSC® endleaf papers are available
Manufactured in the USA
Minimum order: 1 carton per size
Similar Product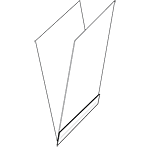 Folded Tabbed
Our Folded Tabbed endsheet eliminates the need to tip the endpaper onto the book block before casing-in. It consists of a folded sheet with a paper tab extending beyond the fold. The tab holds the folded sheet away from the spine allowing the endsheet to be inserted into a perfect binder with the book block. The tab is ground off leaving the endpaper in the correct position for adhesive binding. The standard tab extension is 1/8". Custom extensions are available.
Learn More