Cover Boards
Solid White Laminated SBS Board
Solid White Laminated SBS Board is a buffered, extra-rigid, non-conservation carton board. It is laminated to the desired thickness. Constructed for premium packaging such as rigid boxes it gives you the best surface for excellent printing results.
Features/Specs
Manufactured in the USA
Recyclable
Standard sheet sizes: 32" x 40" and 26" x 38"
Available in full sheets or cut-to-size
Available as C1S, C2S, or uncoated
Calipers: .040, .060
Similar Product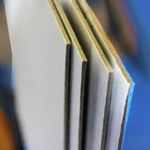 Eurowhite White One-Side Graphic Board
A low-density, three-ply 100% recycled board with a white kraft sheet laminated to one side.
Learn More