Reinforcing Materials
GP5W
BOOKBINDING
GP5W combines paper and an open-weave fabric. The fabric reinforces the book block and the paper caps the spine, combining a two-step process into one. Because this material is extremely strong, it is recommended for use on book blocks larger than 1.5" thick. It also reinforces the spine from head to tail and can be applied prior to rounding and backing, creating a very sturdy book block.
PACKAGING & STATIONERY
The unique look of this natural open weave material laminated to a thin paper makes it a great choice for custom packages. It is available in wide rolls, narrow slit rolls or sheets. Please contact us for a sample.
Features/Specs
FSC® certified
100% cotton
Elongation: 14.5%
Available in 42" (106.68 cm) wide rolls, slit rolls, and cut-sheets
Similar Product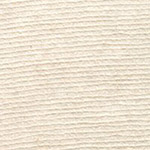 GP2R
Capping paper and a super-like fabric combined to reinforce the book block for flatback books.
Learn More