Endsheets
Endleaf Sheets
Master Endleaf Sheets are 36" x 27-1/2".
Features/Specs
FSC® endleaf papers are available
Manufactured in the USA
Minimum order: 1 carton = 250 pieces
Similar Product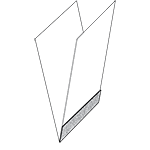 Folded Singer
The Folded Singer is a single folio reinforced with a strip of LBS' drill tape glued along the edge of the fold. This style is popular with book manufacturers that require the endsheet reinforcing to be concealed.
Learn More