Endsheets
Perfect Edge
This style originates from the same concept of our popular folded tabbed endsheet. Easy to utilize on a perfect binder. The binding edge is sealed with adhesive, providing a consistent edge to be milled when paired with the book block, in preparation for adhesive binding.
Features/Specs
FSC® endleaf papers are available
Manufactured in the USA
Minimum order: 2,000 pieces per size
Similar Product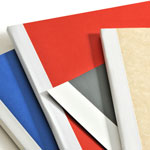 Colored Endleaf Paper
Our 80# endleaf paper is available in a wide spectrum of colors and embossing patterns.
Learn More