Endsheets
Conservation Recase
At the request of conservation librarians, LBS developed this folded endpaper reinforced with Hollytex®, a spun-bonded polyester material used by conservators to repair book pages. The reinforcement tape is 2" wide and extends 3/8" past the fold.
Features/Specs
FSC® endleaf papers are available
Manufactured in the USA
Minimum order: 2,000 pieces per size
Similar Product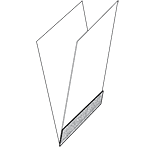 Conservation AA
The Conservation AA endpaper is a single folio reinforced with our 1-1/4" LBS Cambric tape adhered to the fold with a ¼" overhang. For use with book conservation and restoration projects. Wrap the Cambric around the fold of the first and last sections of the book. Tip the loose Cambric to the spine. Sew onto the book through the fold leaving the Cambric loose between the folio and the book block as a guard.
Learn More