Endsheets
Newspaper Oversew
The three-page Newspaper Oversew endsheet is reinforced with 1-1/4" LBS Ungummed Cambric tape. After sewing, the pastedown section of the endsheet is folded back to reposition the hinge to the edge of the spine. A popular alternative to our Ungummed Oversew endsheet is our Flex Hinge endsheet.
Features/Specs
Materials meet NISO/LBI specifications
FSC® endleaf papers are available
Manufactured in the USA
Minimum order: 1 carton per size
Similar Product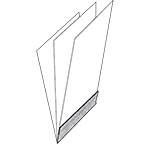 Newspaper Flex Hinge
The Newspaper Flex Hinge endpaper is a large version of our standard Flex Hinge endpaper. For the extra support large editions require, it is reinforced with our 2-1/8" LBS Drill tape.
Learn More