Cover Boards
Foam Board
LBS Foam Board is ideal for applications where a padded cover is desired. It adds a soft touch to your books or luxury packages. Available in custom sizes and calipers with or without a top paper liner. LBS' Foam Board is perfect for children's books, photo albums, religious publications, diploma covers, diaries, menus, looseleaf products, rigid box, and custom packaging.
An optional paper liner is available for ease of manufacturing on automated feeding equipment. Some other terms for this product include: Lined Foam Board, Unlined Foam Board, Padded Board, or Foam Padded Board.
Features/Specs
Manufactured in the USA
Standard sheet size: 24" x 42-1/2"
1/8" and 3/16" thick foam
.088 caliper board is standard – other calipers available (.070, .080, .090, .098, .120)
Available in full sheets or cut-to-size
Square or rounded corners
Available with or without a smooth top liner
100% recycled board
Related Product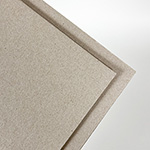 PrimeOne®
Designed to meet the needs of bind-on-demand and photo book manufacturers, yearbooks, menus, stationery and luxury packaging.
Learn More