Endsheets
Flex Hinge
The Flex Hinge three-page endpaper was developed by LBS as an alternative to the Oversew endpaper. Reinforced with our 1-1/4" LBS Drill tape, it eliminates the process of folding back the pastedown sheet, a step required when using an Oversew endpaper.
Features/Specs
Materials meet NISO/LBI specifications
FSC® endleaf papers are available
Manufactured in the USA
Minimum order: 2,000 pieces per size
Similar Product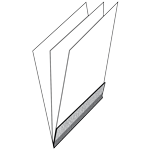 Oversew
The three-page Oversew endsheet is reinforced with 1-1/4" LBS Gummed Cambric tape. After sewing, the pastedown section of the endsheet is folded back to reposition the hinge to the edge of the spine. The Cambric reinforcing tape comes standard with water activated adhesive that seals down the repositioned pastedown sheet.
Learn More