Cover Boards
PRIMEONE®
LBS knew Bind-On-Demand and Photo Books need binder's board that is smooth and consistent with warp-resistant qualities. So, we worked with Ox Industries' mill, in Aurora, IL, to develop and launch an exclusive board for the Bind-On-Demand and Photo Book market. We analyzed each step of their operation in order to develop a board that would have the qualities demanded by these markets. Watch our "How It Is Made" video.
The result is our PRIMEONE® board. To make PRIMEONE consistent, we developed a mixture of waste papers and fiber that would result in a warp-free board that was free of blemishes, smooth, and even in color. We use the cleanest waste paper and fiber available.
Of course, these same characteristics that make PRIMEONE ideal for Bind-On-Demand and Photo Books make it an excellent choice for any type of book – coffee table books, cookbooks, travel books, bound paper backs, children's books and more! With PRIMEONE®, you can bind with confidence.
Features/Specs
An LBS exclusive!
Manufactured in the USA
Recyclable
Standard sheet size: 30" x 41" and 29" x 41" for .120 caliper
Available in full sheets or cut-to-size
Stock Calipers: .088, .098, .120
Density: 3.7 - 4.3
Similar Product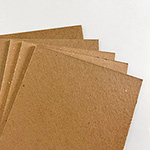 High Density Binders Board
Red Label Binders board is produced with 100 percent recycled fibers.
Learn More