LBS: Serving Book Manufacturers
LBS News
More articles »
---
LBS: Serving Book Manufacturers
Transitioning to Serve Book Manufacturers
LBS was founded in 1926 in Des Moines, Iowa where it remains today. The materials supplier primarily served library binders, providing the sturdy buckram cover material needed to keep the oft-handled library books in one piece. While LBS still serves library binders today, it recognized in the 1990s that the rise of online technology would change the bookbinding and manufacturing industries forever. "We realized that we needed to broaden our customer base," says Mauritz. "In 1996 our owner Fritz James had the foresight to get involved in the Book Manufacturers Institute (BMI)." The BMI, a trade association for book manufacturers, introduced LBS to executives from the top book manufacturers.
Through conversations with the leaders of these companies, LBS learned about the unique challenges of the trade, education, and university book manufacturers and expanded its base of materials accordingly. While it still provides the buckram materials used in library binding, LBS also has a wide range of woven and non-woven cover materials, ideal for on-demand, photobooks, and trade books. The supplier has also expanded the sizes and styles of endsheets, reinforcing materials, and introduced a new line of cover board.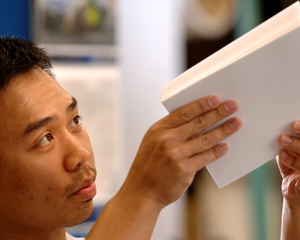 LBS has kept its finger on the pulse of the book market for the past 20 years, enabling it to serve its clients in a number of ways. First, LBS has developed the materials and book manufacturing expertise to consult with clients and improve the quality and beauty of their books. The suppliers standard of on demand and quick turnaround for orders was their philosophy long before the digital printing movement was recognized—sending materials quickly and often anticipating clients' inventory needs. And finally, as LBS clients attest, the supplier's customer service is unmatched. LBS is constantly looking for new ways to improve its products and help book manufacturers succeed.
To learn how LBS's extensive product offering and material expertise can benefit your books, textbooks, or photobooks, visit lbsbind.com, call 800-247-5323 or email LBS at info@lbsbind.com.
---
---
Leave Your Comments
We welcome your comments. Please leave your ideas and opinions below.