LBS: Expansive Inventory
LBS News
More articles »
---
LBS: Expansive Inventory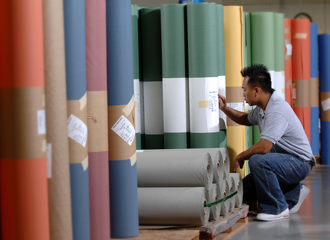 An Inventory So Expansive, Manufacturers Don't Need One
In part a result of on-demand and short-run printing, LBS has had to adapt to the smaller inventories carried by its book manufacturing clients. That means increasing its own inventory and diversifying the amount of materials carried on its floor. "We have to make sure that we have proper inventory because we're finding that book manufacturers are keeping their dollars close and carrying less inventory," says Mauritz. "If they don't have it on their floor, we better have it. We can almost be their inventory for them."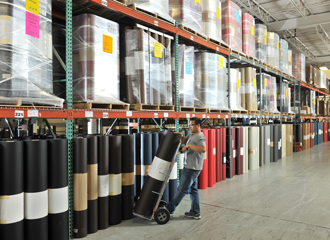 LBS's inventory is constantly expanding, too. LBS offers four kinds of book manufacturing materials including cover materials, endsheets, reinforcing materials, and cover board. The cover materials can serve a variety of hardbound and casebound books and range over 30 styles. The endsheets, which connect the pages of a book and its cover, are a huge part of LBS's materials business. The supplier provides over 45 million endsheets to manufacturers and binders around the country, around the world, actually, with customers in Canada, Europe and as far away as Australia, says Mauritz. Its reinforcing materials support the spine of the book and are available for a range of binding styles, from adhesive to sewn.
Finally, LBS's latest addition to its product line is its cover board, known as PrimeOne®. This cover board was developed in partnership with paperboard supplier WestRock and was created specifically for photobook manufacturers and bind-on-demand. Its warp resistant board allows manufacturers to create a more durable, high-quality cover for custom photobooks. "It gives the book a feeling of quality and substance when you handle it," says Mauritz. "It is perfect for the photobook industry, which is selling quality images, memories, actually, and the PrimeOne® Board helps the photobook manufacturer provide a superior final product."
LBS offers samples of their materials to prospective clients and customers. "We often receive compliments from our customers for providing them with large sample pieces. It is critical to them to see how their book or package will look when mocked-up," says Mauritz. "We also provide rolls or sheets of reinforcing materials for customers to test runability on their equipment. This will allow them to produce a bound book and test it for durability.
To learn how LBS's extensive product offering and material expertise can benefit your books, textbooks, or photobooks, visit lbsbind.com, call 800-247-5323 or email LBS at info@lbsbind.com.
---
---
Leave Your Comments
We welcome your comments. Please leave your ideas and opinions below.