LBS: Industry Experts
LBS News
More articles »
---
LBS: Industry Experts
LBS has come a long way in the 20 years since it became a member of BMI. Not only has the supplier formed relationships with book manufacturers, but it has also come to know the equipment manufacturers who create binding machinery. That complete understanding of the supply chain enables LBS to find the right materials for book manufacturers' equipment. LBS has brought this expertise to bear for long-time book manufacturers adapting to new market demands as well as start-up manufacturers still learning the ropes.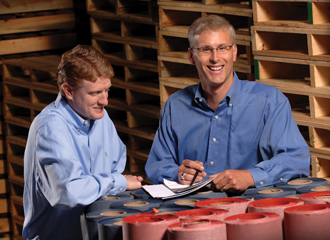 "The first things these emerging on-demand printers or photobook printers typically do is buy equipment," says Mauritz. "That's the big purchase. Then they ask the equipment manufacturer what they should do next? And often they will tell them to call LBS." LBS understands what materials will run best on which equipment and can give new book manufacturers confidence that their machines and material will work properly together. "They'll take us onto the floor, take us right up to their equipment, and talk about the issue they're having, and we'll resolve it with the right materials," says Mauritz.
LBS's material knowledge can also lead to more specialized solutions that go beyond supplying materials, like testing clients' books for durability and quality. For example, in 2014 book manufacturer Thomson-Shore—a 15-year client of LBS—consulted with the supplier on the materials used for its casebound products. The goal was to create a stronger, more durable book while maintaining its beauty. "We completely changed our binding specifications as a result of engaging with LBS on a strength and beauty analysis of our offset, short run, and print-on-demand casebound products," says President and CEO Kevin Spall. "As a result we believe we can offer the highest quality, strongest casebound books regardless of print method. We could not have done this without LBS guiding us along our decision path."
LBS's consultative approach has also proven invaluable at Edwards Brothers Malloy, says Upton, as the book manufacturer uses LBS materials for nearly all of its edition binding. "We consider LBS a very strategic partner at all levels of the organization. We meet strategically with their leadership team to discuss market trends, product development, and how we can help each other grow our businesses. We would find it extremely difficult to be successful without LBS at our side."
To learn how LBS's extensive product offering and material expertise can benefit your books, textbooks, or photobooks, visit lbsbind.com, call 800-247-5323 or email LBS at info@lbsbind.com.
---
---
Leave Your Comments
We welcome your comments. Please leave your ideas and opinions below.