LBS: Outstanding Customer Service
LBS News
More articles »
---
LBS: Outstanding Customer Service
Customer Service Is in Its DNA
The glue that holds all of LBS' diverse products together is the unparalleled customer service the supplier offers its clients. An account manager is often the first person a prospect speaks with, typically right after that prospect has purchased a new piece of equipment. "The account managers are on the front line. They have to understand the business and understand the equipment that the printer just bought and the materials that will work best for that equipment. And if we don't have the answer, we have to find it," says Mauritz.
LBS's customer service goes beyond connecting book manufacturers with the right materials. The supplier will also develop new materials that are specialized to a manufacturers particular need. For example, Edwards Brothers Malloy gained a new client in 2014, Shinola, which needed the manufacturer to assist it in custom-designing a line of journals. "The journals had to be engineered for both high quality and efficient production," explains Upton. "LBS worked closely with us to create new materials which met those needs, and they continue to work closely with us as they produce those materials for the journals we make for Shinola. The Shinola line of journals is becoming more and more popular as it gains greater exposure to the public."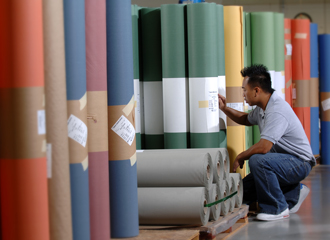 Jay Fairfield is the CEO of HF Group, a library and on-demand printer and binder that has been a client of LBS's for over 40 years. Fairfield attests that LBS's commitment to quality service has been a part of its DNA from the beginning. "What sets the company apart are its people. Their passion and their commitment in serving their customers in any way they can is unmatched. They've always been that way for as long as we have worked with them."
Although the industry will continue to evolve, as will LBS's range of services, the materials supplier is committed to maintaining a standard of high quality customer service and materials. "Book manufacturers aren't going away," says Mauritz. "They're just going to continue to change and we need to change with them. We will continue to keep our eyes open for other opportunities to help our customers."
To learn how LBS's extensive product offering and material expertise can benefit your books, textbooks, or photobooks, visit lbsbind.com, call 800-247-5323 or email LBS at info@lbsbind.com.
---
---
Leave Your Comments
We welcome your comments. Please leave your ideas and opinions below.