Cover Boards
High Density Binders Board
High Density Binders Board (aka Red Label Board), is made from 100% recycled fiber and produced to full thickness in one operation. Compared to most laminated boards, it provides greater warp resistance and superior dimensional stability. Also known as binders board, book board, book cover board, bookbinder's board, bookbinding board, bookbinding cover board, cylinder board, high density binders board, wet lap binders board, spec board, El-Hi board, Davey binders board, and cover board.
Features/Specs
Meets NASTA / MSST specifications
Manufactured in the USA
100% recycled materials
Standard sheet size: 29" x 41"
Available in full sheets or cut-to-size
Calipers: .070, .080, .098
Similar Product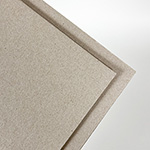 PRIMEONE®
Designed to meet the needs of bind-on-demand and photo book manufacturers, yearbooks, menus, stationery and luxury packaging.
Learn More