Cover Boards
Premium Black Board
Our Premium Black Board is a solid black low-density, three-ply board designed with performance in mind. It features a deep black appearance with an ultra-smooth finish and exceptional lay flat properties. It is manufactured like our Coverboard (Graphic Board, Euro Board). Its shorter fibers and control in the production process assure superior warp resistance to black chip board products. Premium Black Board is made from 100% recycled paper. Perfect for when your product demands a stable, smooth, rich black board. Ideal for publishing, rigid boxes, or spirits packaging.
Features/Specs
FSC® mix 100%, 75% PEFC, EN-71-part 3, Foodstuffs and Consumer Act
100% recycled materials
Standard sheet size: 28" x 40"
Available in full sheets or cut-to-size
Solid black and black one-side available
Caliper: .040
Similar Product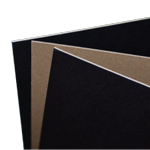 Black One-Side Chipboard
Pressed fiber thick paper, made from recycled paper and dyed black on one side.
Learn More