Cover Boards
Solid Black Chipboard
Solid Black Chipboard also known as solid black board, is a rigid board, perfect for a wide range of applications, including bookbinding, photo mounting, photo books, picture frames, decorative packaging, P.O.P. displays, rigid boxes, and puzzles.
Features/Specs
Manufactured in the USA
100% recycled materials
Standard sheet sizes: 26" x 38" and 26-1/2" x 38"
Available in full sheets or cut-to-size
Calipers: .060, .080, .100
Similar Product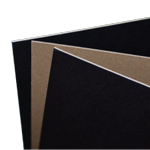 Black One-Side Chipboard
Pressed fiber thick paper, made from recycled paper and dyed black on one side.
Learn More