Cover Boards
Graphic Board
Graphic Board is a low-density, three-ply board designed with performance in mind. It features an ultra-smooth finish with exceptional lay flat properties. Its shorter fibers and control in the production process assure superior warp resistance to chip board products. Graphic Board is made from 100% recycled paper. This low-density board is constructed of three elements: the core, which accounts for 60% of the total caliper, and two outer layers, which make up the remaining 40% of the boards caliper (20% each). Other names for Graphic Board include: low density board, low density fiberboard, graphic board, European board, book cover board, cover board, book board, bookbinding board, Euro board, puzzle board, ESKA board, and ESKA graphic board.
Features/Specs
FSC® Certified available
Recyclable
Available in full sheets or cut-to-size
Calipers: .050, .059, .079, .087, .098, .118, .130, .145
Similar Product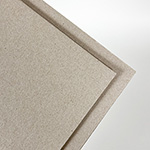 PRIMEONE®
Designed to meet the needs of bind-on-demand and photo book manufacturers, yearbooks, menus, stationery and luxury packaging.
Learn More