Endsheets
Black Bible Endsheet Paper
LBS' Black Bible Endsheet Paper is perfect for new or rebound bibles as well as a liner for many other items. Available in packages of 100 pre-cut sheets, 26" x 20".
Features/Specs
Latex-saturated paper with an acrylic topcoat
FSC® Certified
Manufactured in the USA
Standard sheet size: 26" x 20"
Caliper: 9.5-pt. = 130# Text C1S
Minimum order: 100 sheets
Black; kidskin embossed with white backing
Similar Product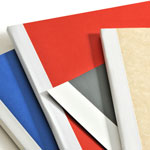 Colored Endleaf Paper
Our 80# endleaf paper is available in a wide spectrum of colors and embossing patterns.
Learn More