Endsheets
Singer Side-Sew
The Singer Side-Sew endsheet is reinforced with LBS' Drill tape, adding additional strength and insuring a secure base for side-sewn leaf attachment. This endsheet is commonly used for all side-sewn books such as children's books, textbooks and photo books.
Features/Specs
Materials meet NISO/LBI and NASTA specifications
FSC® endleaf papers are available
Manufactured in the USA
Minimum order: 2,000 pieces per size
Similar Product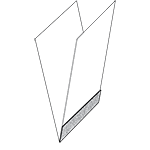 Folded Singer
The Folded Singer is a single folio reinforced with a strip of LBS' drill tape glued along the edge of the fold. This style is popular with book manufacturers that require the endsheet reinforcing to be concealed.
Learn More